Marco Fidel Rodriguez is a farmer in Filo de Chillurco, in the Huila region of Colombia.
We first shared his coffee back in 2015, and are excited to have the opportunity to share it with subscribers once again.
Back in 2015, he'd only recently moved to selling his coffee to the specialty market, and started seeing the reward of higher prices, reflecting the higher quality.
He reinvested this money into further improving his farm, building himself a new secadero (parabolic drier) to handle large volumes. Previously he would run out of room and have to abandon a lot and sell it to the local cooperative wet, at a lower price.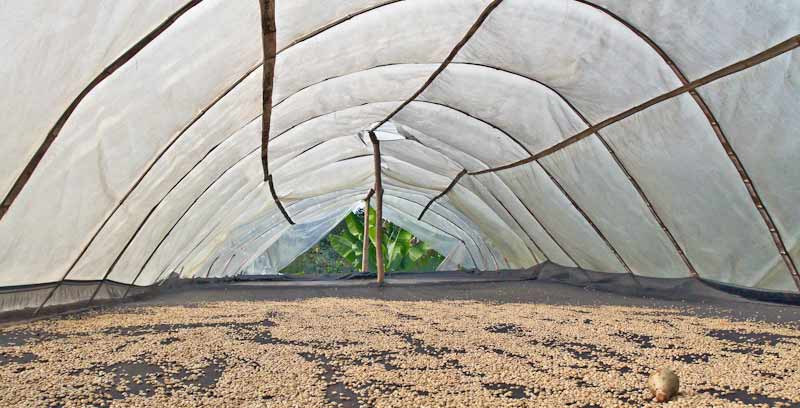 An example of a parabolic drying bed
Parabolic drying beds are common in Colombia for high quality producers. Despite the fancy name, they're essentially a curved cover over the drying beds, similar to a greenhouse.
He plans to renovate his wet mill, build bigger tanks and buy a refractometer to measure the sugar levels during fermentation to improve the quality of his lots and reduce the risk of having coffees rejected for over fermentation.
It's great seeing farmers not just rewarded for producing high quality coffee, but also seeing them keep working to further improve.
Explore Colombia
Aaron Frey has a great post on his site FRSHGRND about visiting a farm in Colombia that's worth checking out: Part one covers things at the farm and harvesting, and part two picks up with processing.
What's with the AAA?
The coffee industry often uses extra letters after the name of a coffee to indicate extra details about the beans. The letters and what they signify often vary depending on the country.
Virmax, our importing partner in Colombia, grades each coffee when it's delivered by farmers in each town. To be considered for export through Virmax, the coffee needs to score at least 83.
A coffee which scores 83 or 84 is given an A grade, those scoring 85-86 are AA, and anything 87 and above is given a AAA grade score, the highest possible quality.
The price paid to the farmer increases to reflect the grade.
How Stuff Works has a a short video about the grading and export process at Caravela which was filmed at Popayán, a town just west of Pitalito.
There's also a great interview with Caravela about their processes in Colombia and how they work with farmers to improve quality at the Square Mile Roasters blog.