From the same cooperative group as Jabanto Honey and Adebe Cherfo, this coffee has been fermented using a relatively new and young method borrowed from the winemaking industry.
VERY SPECIAL
Jabanto Carbonic Maceration is the first feature of our new Brew Crew VS subscription. We've chosen it for its outstanding cupping quality and extremely fruity flavours—a product of its unique fermentation process. But what makes it extra special for us is what it represents: an intersection between ancient and modern.
This particular lot is an Ethiopian heirloom. It's a classic varietal, grown and harvested in the coffee's historical birthplace. However, the fermenting method is one of the most contemporary and cutting-edge methods. Old meets new to create a delicate treat that we're lucky to experience.
LINKS WITH WINE
If you're into grape juice, you probably have heard of carbonic maceration before. In winemaking, it refers to a fermenting process occurring in an enclosed vessel, where oxygen is limited, carbon dioxide is rich and a percentage of berries are uncrushed. It was first used in a controlled environment as early as the 1930s—surprise— in France.
"Most wine transforms from grape juice into alcohol via a yeast fermentation. Bunches of grapes are picked, destemmed and crushed. The yeast, whether naturally present on the grape skins or added by winemakers, 'eat' the natural sugars in the grape juice and converts them into alcohol." However, "In carbonic maceration, however, the initial fermentation is not caused by yeast, but instead occurs intracellularly, or from the inside out." (Source: winemag.com)
JUMP INTO THE COFFEE WORLD
There is little information on when and how this technique started to infiltrate the coffee world. However, we know the exact moment it became popular: the 2015 World Barista Championship, won by Saša Šestić with a carbonic maceration process coffee.
Saša developed it in collaboration with Colombian farmer Camilo Merizalde after learning about its use in wine.
This fermentation method is considered still young in the industry and its use is not very much extended. Compared to other processes, such as washed, carbonic maceration could be volatile, hard to replicate and somewhat unpredictable in terms of quality and flavour results. Hence lots like this one of Jabanto are small and represent a tiny percentage of the producer's output; farmers' can't risk all their harvest to a process that is still not yet completely understood and mastered.
THE CARBONIC MACERATION PROCESS
Just as in wine, the process starts by placing whole, uncrushed and ripe berries inside an airtight container. With time, as coffee ferments, the sugars are broken down by bacteria into CO2 and alcohol; the more CO2 is released, the more the pressure inside the vessel builds up.
The resulting environment is an oxygen-poor atmosphere, isolated from external conditions. Each cherry ferments from the outside-in and, theoretically, independently from weather and other conditions linked to the processing station.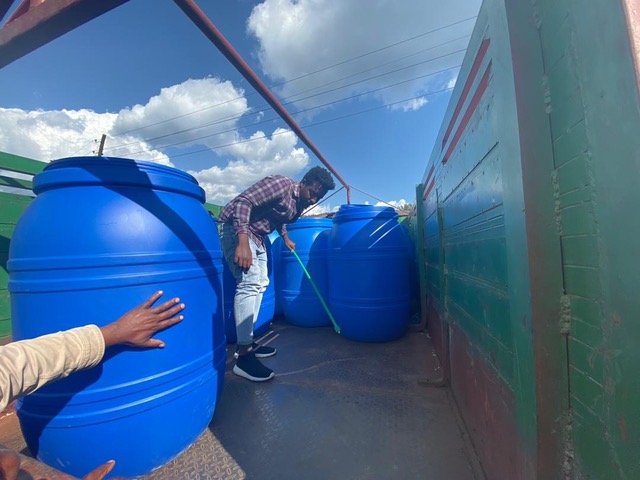 Fermentation tanks at Jabanto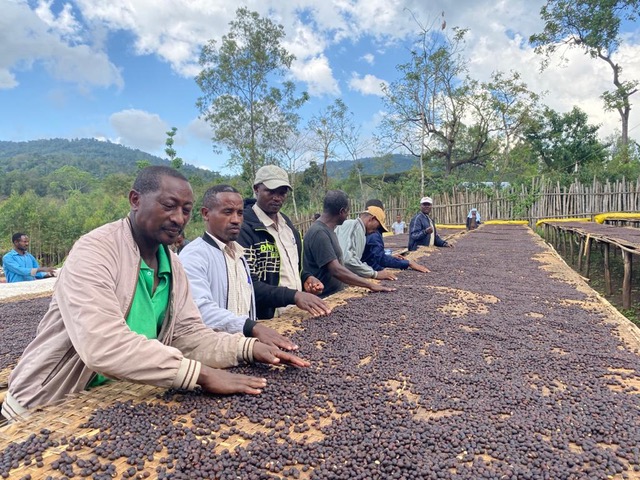 Raised drying beds

"According to Šestić, all the flavours and aromatics produced by carbonic maceration have no way to escape. Instead, they're absorbed by the coffee parchment, contributing to a 'stoned fruit' quality in the cup. During the process, they use low temperatures to avoid alcohol build-up." (Source: mtpak.coffee)
In the case of Jabanto CM, the cherries ferment in the tank for about 60 hours, and then transferred onto a raised bed, where they sundry for some additional 10-12 days.
BREW, SHARE AND ENJOY
Now you know a bit more about the background it's time to enjoy this awesome coffee! If you don't know where to start, you can use Reuben's brewing recipe shared here on the brewing notes (see below in this page).
You can also try your favourite method and play around with some settings to get the best of it. Don't forget to tell us how it went, registering your recipe here, via email or on Instagram at @samplecoffee.
We look forward to hearing about your experience with this VS coffee!
FURTHER INFO